Here are some of the guitars in my collection. I use them all at some time or other, and they all have their own little stories.

Click on the images to enlarge.
This Takamine has been the work horse of my collection.I bought it from a busker in Norway, who was a bit broke. One of my best buys. It is the guitar that I have used for all my shows and workshops. It is an excellent near copy of a Martin D28 and was made in 1979 before Takamine were taken to task for copying Martin guitars. The pick up is an early Fishman with easy to manage tone and volume - very simple. You just plug it in and play, no fiddling necessary. It works through nearly every PA I have used and always sounds great. I use an early LR Baggs EQ box just to fatten out the bottom end a little. This is a solid, working guitarists guitar.
This Martin HD28 is fairly new - around 2015. It's a great sweet sounding Martin and as good as any old D28 that I've played over the years check me playing it here
This is my 1963 Gibson J45. I was lucky enough to be gifted this by a good friend and was found in Rare And Vintage Guitars in Bath UK. It was preowned by former Monty Python and songsmith 'Eric Idle'
Check out the sound here.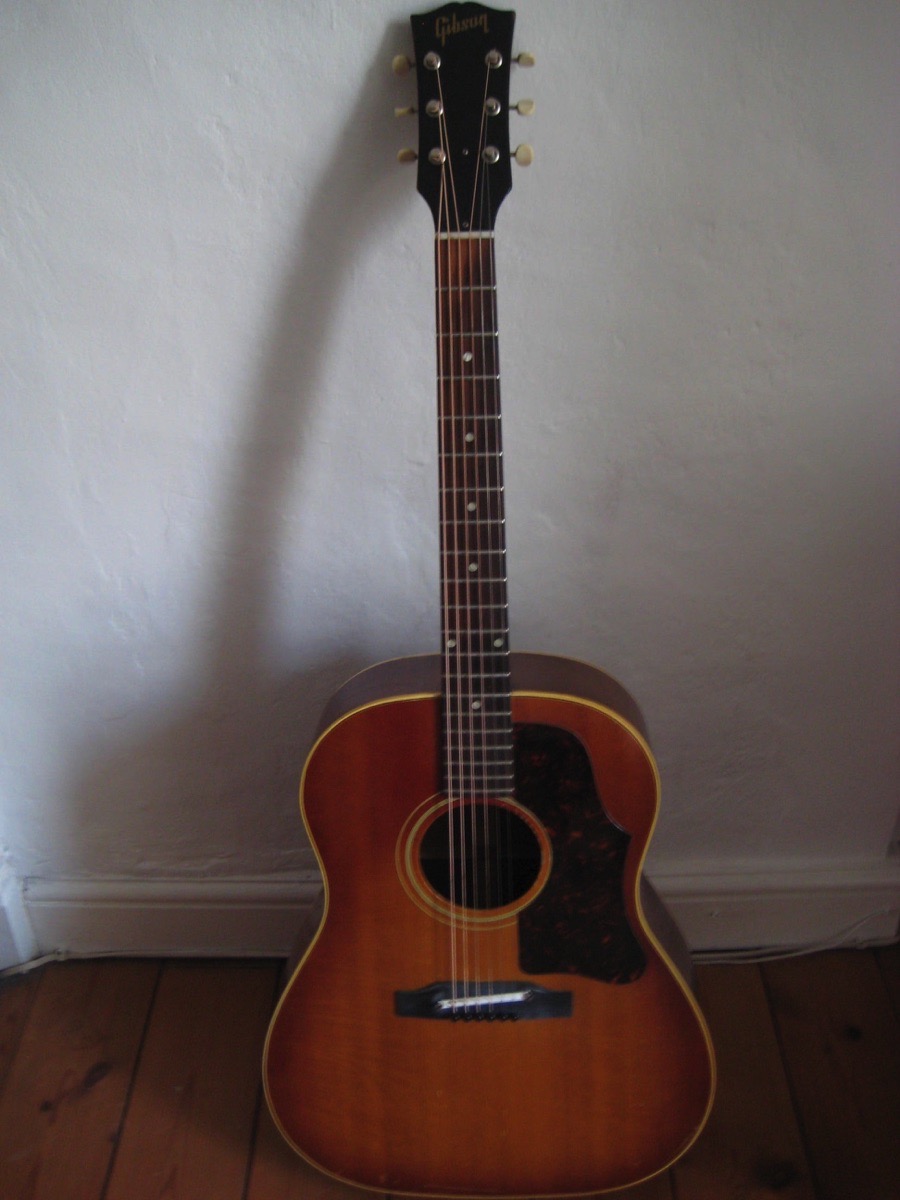 GIBSON J45 1963



ERIC IDLE with the J45
This is a very interesting little guitar. I bought it for a few pounds down a local Oxfam shop
when I noticed it had a slightly arched top. It was made in Natal, S. Africa with kind of Zebra markings. Apart from its strange heritage it sounds wonderful. Great for playing around the house, not loud, but a very sweet tone. It even sounds African if you play high end inversions in that jumpy way. Brilliant - good bargain too.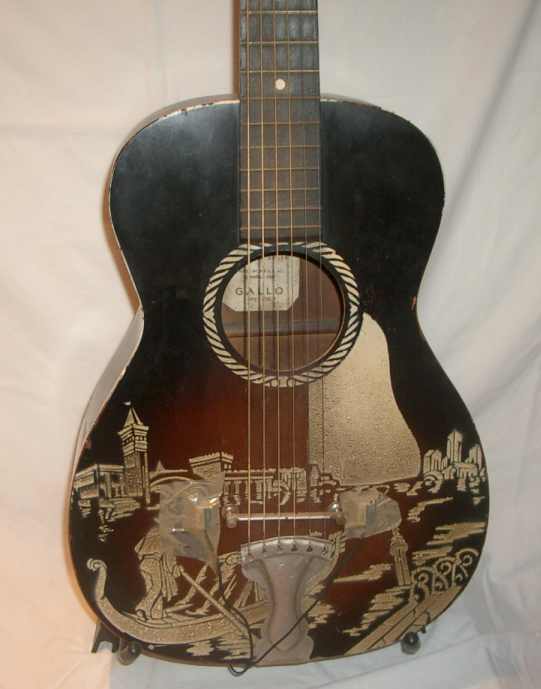 SINGER
watch video of this guitar in action!
This is an interesting guitar. Once again I found this one in a junk shop, with no strings it just leapt out at me saying, 'string me up I'll sound great'. Sure enough. It is made in the USA, and has been played a lot, due to the heavy fret wear. The amazing thing is that with the metal bridge and resonator tail piece, it actually does sound like an old metal resonator guitar. The Venetian scene gives it an eerie look but the sound is incredible. I used it on the Bridge album and you can hear it at its best on the track - My Day Is Done. Click here to listen to a preview of the track. Also, on the track Los Recuerdos
This is an ancient, late sixties hand built guitar. I did my first gigs using this. It has a big sound, not unlike a J200, the unfortunate thing is it is beginning to fall apart, literally at the seams due to time and temperature changes. It is confined to garden use mainly. I never found out what happened to the makers - Ducret - anybody know?
I picked this on up whilst on tour in Denmark - cost about £20. It has a lovely sweet tone and is especially good for a pure slide sound. I've used this guitar for countless sessions and film soundtrack work. I've only ever seen one other of this kind of Hofner. This was used by Sting guitar side man Dominic Miller.
Check out me playing this guitar on a track from the Bridge - Don't Turn Out The Light
and on the classic Dark Was The Night Cold Was The Ground
I don't often play tenor guitars, especially the four string variety, but this one was good for the big old uke sound. It mostly hangs around these days with nothing to do.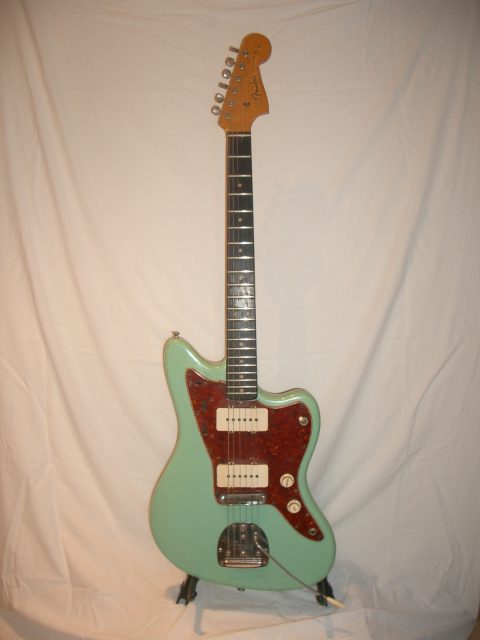 63 FENDER JAZZ MASTER
This is a wonderful guitar. It is quite rare, with an early serial number: LO 9078 and the colour is Foam Green, or Buick Blue. I've used this since the early eighties when I was desperate to play those big surf riffs. One of my fave bands, years ago was Roogalator, and their front man, Danny Adler really brought out the best in his Jazz Master. From then on it was the guitar for me. Big, fat and swampy - fabulous! I use this guitar on the title track of the Bridge album. The Singer guitar provides a great slide sound for the intro too. The Bridge

FENDER MUSICMASTER

watch video of this guitar in action!
I bought this Musicmaster specifically to change pick ups. I took the pick up from an old Supro lap steel, and mounted it to this guitar.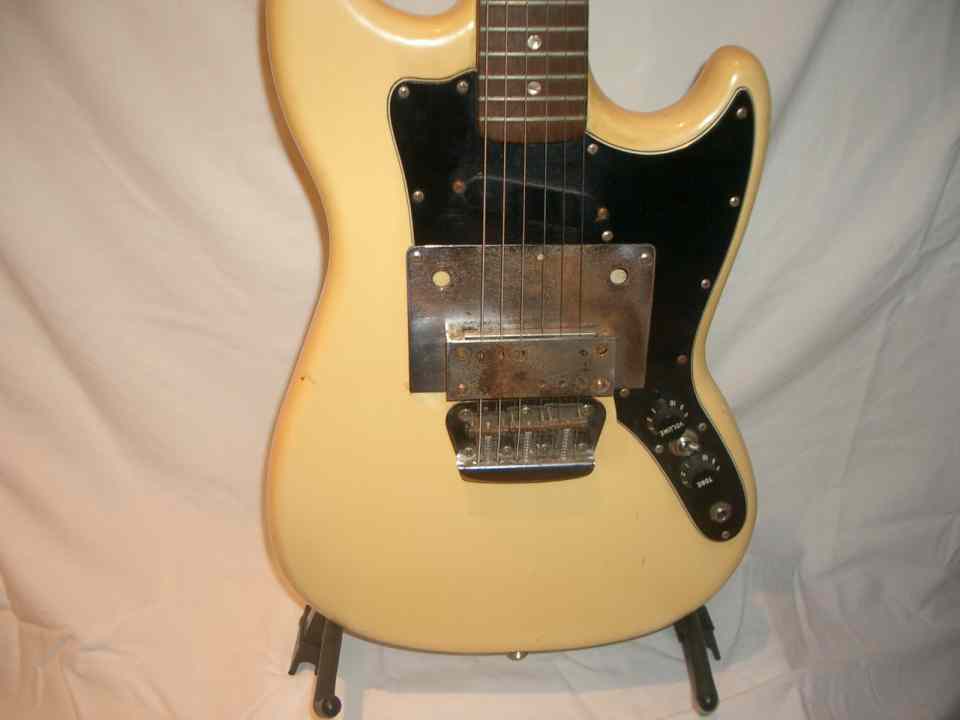 The result is a great grungy slide sound with loads of sustain. Perfect for those Ry Cooder, biting, electric slide riffs. This is the main guitar when playing with the Blues Cowboys. Yee
Ha !


1956 Kay P3

This is a great archtop guitar - real quality sound and fittings too- recently acquired at a guitar auction near Bath and for a reasonable price. Rock and Roll in a box! Check it out here>>

A FEW MORE IN THE GUITAR FAMILY